—
News Archive.

—

01.10.2017 // NikeLab x OFF-WHITE "Ten Icons Reconstructed"



NikeLab LDN product showcase; workshops space in Spitalfields; Dover Street Market retail installation. More here

–––––
8.2016 // Nike Unlimited Shanghai



Epic event design to coincide with the Olympics. More here


–––––
2011—2016 // Deck Chair



Fun skate + art project. More here


–––––
6.2017 // Things I Don't Have Time to Tell You About Part 6,341

Berghaus (retail identity)
A3 – DRoP (visual identity + store design)


–––––
7.2016 // Aversion Therapy for Infinite Objects




Aversion Therapy is a response to everything going on right now: a melting pot of lies, political games, uncertainty, shock and trying to find optimism amongst it.

New free digital art by me for your desktop/phone. Available now from Infinite Objects for a limited time only. Go get it.



–––––
5.2015 // Stride, Moscow




Naming, branding, store design, apparel, collateral, graphic design for a new running store in Moscow. The visual concept is based on the motion of running and creating a sense of movement in every item from the logo to the ceiling, from the shelves, to the typography. Full details at Rosie Lee.



–––––
2.4.2015 // Nike Air Max Day, Shanghai




I spent some time in China earlier this year, working on a series of installations and happenings designed to communicate the heritage and technology of Air Max. It was too epic to fully describe here, so I'll just list some of the outputs of this collaboration with Nike China:

Pop-up exhibition of 100 Air Max from sneakerheads across Greater China, displayed in acrylic 'bubbles', housed in an oversized LED-lit sneaker box at Design Shanghai...

Takeover of Nike's flagship Shanghai store, featuring a giant exploded Air Max Zero, interactive mini-exhibition of the Air Max genealogy, digital countdown to AMD, sneaker valet service and a hyper selfie zone (when in Rome)...

Vans customised to match Air Max OG colourways driving around Shanghai, dropping off Air Max sofas and offering exclusive pre-orders... Interactive screens to create your own Air Max colourways... The list goes on. More photos and info at Rosie Lee.



–––––
19.10.2014 // Nike x Size? Sneakerboots



Promo video as part of Rosie Lee's wider launch of the Nike Air Max 90 Sneakerboot at Size? To communicate the key benefits of the shoe, we froze the AM90 in a prism of ice to see how it fared against the elements.


–––––
23.09.2014 // Nike Come Out in Force, Madrid

An epic one-night-only exhibition, 3x3 tournament and party celebrating the World Basketball Festival at the incredible Palacio des Cibeles in Madrid. We created the visual identity (brought to life by some very talented Spanish sculptors), monolithic display cases to exhibit the best of 42 years of Nike basketball sneakers and a DJ booth for Clark Kent to set the party off. More photos and info at Rosie Lee.






–––––
03.02.2014 // TEXT at Kemistry Gallery

I've got a piece in an exhibition at Kemistry Gallery in Shoreditch 3rd–15th Feb: the private view is 6–9pm on Thurs 6th Feb. If you're in London, come along. The piece I'm showing is called Big Easy: photos and more information here.

TEXT
3–15 Feb
Private view: 6 Feb 6–9pm
Kemistry Gallery
43 Charlotte Rd
EC2A 3PD



*Update* thanks to everyone who came for the private view: it was fun night. The exhibition is open 10am–6pm until Saturday 15th Feb.



–––––
10.01.2014 // Rosie Lee shop


My studio made some nice versions of things that are not always nice and now we're selling them. The range, concept, illustrations and online store were all created in-house. Check it out: RL Shop.



–––––
07.07.2013 // Nike England football kit launch

A launch of epic proportions. I'd tell you all about it, but better just to watch the video. Full details here.



–––––
01.05.2013 // Nike London HQ Refresh

At Rosie Lee we added an injection of new life to Nike's Soho headquarters. Full project details and photos here.



–––––
18.11.2012 // Uniqlo Heat Tech


We made the store look how the product feels. More info and photos at Rosie Lee.



–––––
01.08.2012 // Uniqlo Easy Leggings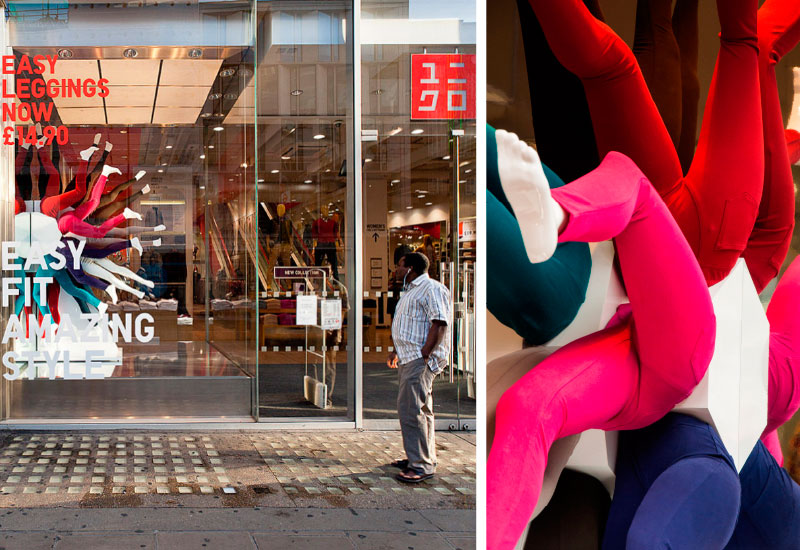 An eye-catching kaleidoscope of brightly coloured leggings as part of an ongoing relationship with Uniqlo. More projects with Uniqlo here.



–––––
30.05.2012 // Hope + Anchor visual identity

Hope + Anchor are an award-winning strategic insight agency. At Rosie Lee we created an identity and website that balanced creativity with business understanding. More info and images here.



–––––
20.05.2012 // Tom Hull visual identity


At Rosie Lee we created the visual identity for this talented photographer. The concept was to provide a mark that could work comfortably with Tom Hull's photography even when used large. The project also included a new website and stationery. Full details and more images here.



–––––
10.05.2012 // Icon ReThink


Icon magazine invited Rosie Lee to participate in their regular ReThink feature, where studios redesign something they feel needs improvement. We chose to rework the currently-painful interface for buying train tickets.
Our concept was to streamline the number of steps required to buy a ticket and make the experience more intuitive. We also looked at how useful information such as journey summaries, platform numbers, changes and timings could be integrated without making things more complicated. More info and interface images here.



–––––
6.05.2012 // BBC homepage nominated for the Design Museum Designs of the Year 2012


The BBC Homepage redesign was a key part of the new Global Visual Language I worked on at Research Studios. Kind of a hybrid of ideas from the News, UK Home and International Home designs, this version is slightly removed from how we left it, but I'm very pleased to see it nominated.



–––––
25.04.2012 // Uniqlo Ultra Light Down selected for Creative Review's The Annual 2012


The jackets were so light, we thought they should float. These installations caught the attention of passers-by and in turn, Creative Review. More info and photos here.

–––––
6.12.2011 // AWAY! AWAY! AWAY! book cover


Rosie Lee have a long history of collaboration and participation with Run Dem Crew, so it only made sense for us to design this photo essay in celebration of their running community. Although my involvement in the design between the cover sheets was limited to offering the odd 'yes' or 'no', I'm pleased to present the cover image I created. More developments on this project are still to come. For now, more in-depth info and images are available here, with additional love from Collate and Its Nice That.

Photos shown here (and photo essay in the book) by Tom Hull.

*Update* The book is now available to buy exclusively in-store and online at Beach London. I've also expanded the project page to include new images of the book, T-shirt, risograph print and London Marathon banners.



–––––
24.10.2011 // British Dance Edition identity


British Dance Edition London 2012 is a showcase of the UK's best dance, coming next February. Here's a first look at the visual identity we've created for them. *Update* images of the identity in use and more info here.



–––––
18.10.2011 // Into The Fray


A concept originated at Rosie Lee as an exploration of the raw power of rugby athletes, this series of images depicts the scrum like never before. My role was visual direction in post-production and creating the supporting typography. More info and images can be found here, the video trailer is here, plus coverage from Creative Review and Collate.



–––––
14.04.2011 // Dave White: Americana identity


Artist Dave White asked us at Rosie Lee to create the visual identity for his latest series of paintings entitled 'Americana'. Applications included signage at The Coningsby Gallery (above) a hand-stamped set of stickers, invite card, and bespoke skate decks. More info and photos here. Further coverage can also be found here, here and here.



Update: Originally exhibiting at The Coningsby Gallery in London, our identity has also travelled with Dave's work to Galleri Jules Julian in Copenhagen.



–––––
09.04.2011 // What Next? prints


Ridiculously, I'd never set foot in a screen printing studio until recently. I paid a visit to Print Club London and experimented a bit with layering ink to see what I could achieve with a minimum number of screens. I used an old poster of mine this time as a test so I'm looking forward to going back and producing something completely fresh.






–––––
29.01.2011 // Creative Review Type Annual


A nice suprise on my last day at Research Studios: we got into the Creative Review Type Annual. The five typefaces we created as part of our 'Double Dip' Granimator pack are featured in the Bespoke category. For more info images and videos on the project, go here.
–
While I'm at it: the 'Boom' typeface I did as part of RS's Aniboom rebrand is featured in new book, 'The Visual Dictionary of Typography' and the rebrand of Music For Youth is featured – with a written synopsis from me (uh oh) – in upcoming book 'Logo Design Vol. 3.'



–––––
08.01.2011 // THEY poster


Blam was kind enough to send me a sample poster from my THEY series. Available now from Print Process, they're the perfect for making guests feel awkward when they walk into your lounge (especially at A0).



–––––
04.01.2011 // BBC online visual language
From late 2009 to early 2010 I was part of a team at Research Studios creating a new visual identity for the BBC's online presence. Some eager beaver has handily created a blog dedicated to BBC sites that have relaunched using our visual elements and guidelines. Take a look here.



–––––
06.12.2010 // THEY series available on Print Process


High-quality giclée prints of the THEY series of posters are now available to buy from Print Process. Its an open-ended edition with three size options: A2 = £30; A1 = £60; A0 = £120.



–––––
10.11.2010 // Music For Youth Schools Prom


Earlier this year at Research Studios we rebranded Music For Youth and the Schools Prom is the second major event of theirs that we had the pleasure of attending. It was great to see our work all around the Royal Albert Hall and the performances were nothing short of fantastic.



Exterior shot and event photos: Alick Cotterill.



–––––
09.11.2010 // Posters featured in Eight:48


Eight:48 were kind enough to feature three of my posters in their third issue entitled, Frame Me: Poster Design Today.
Left = a brand values poster for Sound and Music.
Right = posters to promote lectures I gave at Southampton Solent University in 2009 and 2010 (HQ versions + more info here).



–––––
26.09.2010 // Anarchy/apathy exhibition


On the final day of the Anti– Design Festival, we at Research Studios ran our own event entitled Anarchy/apathy. We asked visitors: 'Are we anarchic? Are we apathetic? What do either of these states mean to us?', exploring the relevance of anarchy and apathy in everyday life, through real-time interactive information processing. The space featured data collection, processing (seen in the centre) and visual outputs (right wall), alongside a floor-to-ceiling poster wall of other designers and image makers' explorations of the subject (left wall). Other explorations included an interactive map and timeline, and an iPad (using Granimator) where the public could create messages and project them onto the back wall.



–––––
17.09.2010 // THEY-001 featured at the Anti– Design Festival


A couple of photos from the launch night of the Anti– Design Festival, where THEY-001 was featured on the salon wall as part of a group exhibiton alongside Ian Wright, Neville Brody and Adrian Shaughnessy. High-quality giclée prints of the THEY series of posters are now available to buy from Print Process.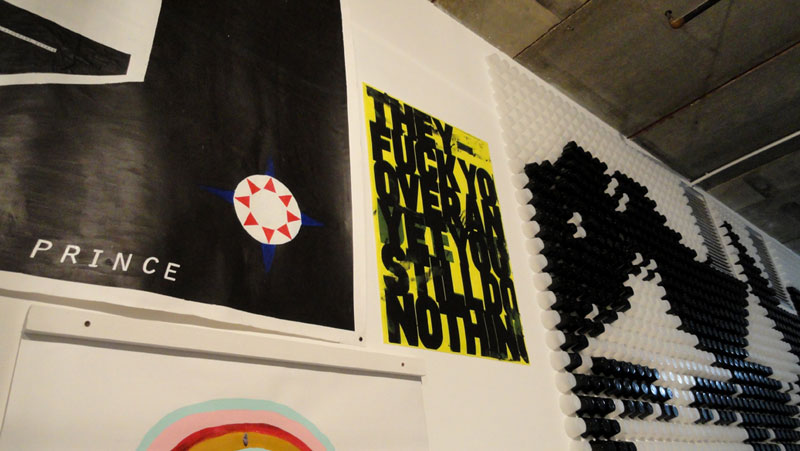 –